March 29, 2012. We were advised on March 28, 2012 that this boat has been sold, and while we were standing by for the new owner to check in, the old owner, Ernest Tan, checked in with the following email and some more photos that appear below.
Hi,
My name is Ernest Tan and I was the previous owner of the SS 24 boat 'Aurelie', call sign K3633, based in Auckland, New Zealand. I owned it for two years and have had great pleasure sailing it but have had to sell it off late last year. I sold the boat to another New Zealander but whose details I don't have with me now.

I received a call last night from somebody from this group I believe, (Giles Grimston, Summer Wine) who suggested I contact you. I understand there is interest in photos of the Aurelie. Attached here are some photos, all taken within last two years. Hope you all enjoy the photos.

Kind regards, Ernest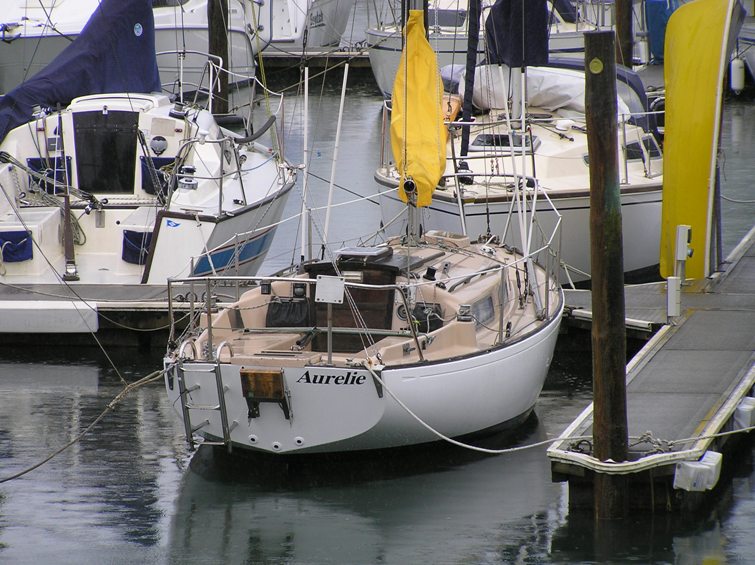 ***************************************
October 7, 2011. DFI Giles Grimston (Summer Wine) brought this boat and the following ad to our attention on Sept 6, 2011. The price has been reduced. Here is the updated link to the ad on Trade Me Motors http://www.trademe.co.nz/a.aspx?id=413506466
The updated ad is below.
Sparkman & Stephens 24
Start price: $7,300.00 No reserve Closes: Fri 14 Oct, 6:29 pm

Listing #: 413506466 Buy Now: $7,800


A great little sailer and a well known name. Very easy to sail and fun. Made of GRP and hull in good condition. Her stats:

LOA 24'
Beam 7' 8"
Draught 4' 2"

Just finished antifouling and top hull re-painting last week. It's now back in water.

Swing mooring is now excluded in this auction. If you want, can be bought as extra for $700. The mooring is located 600m upriver of Half Moon Bay marina.

Her equipment includes:

1 x main sail
1 x spinnaker + pole
1 x storm jib
No. 1, 2 and 4 genoas
Sail cover
5HP Yamaha long shaft outboard (1988) - seems to push the boat very well
2 x fuel tanks
New fuel line (2011)
Tenob outboard bracket (early 2010)
Manson supreme anchor 15 lbs (early 2010)
Deep cycle battery
10W solar panel + charging controller (mid 2010)
Hawkeye Norcross depth sounder (mid 2010)
VHF radio
CD player
Navigation + anchor lights
3 x life jackets
Flares
2 x fire extinguishers
Kerosene stove
Jabsco toilet
Fog horn


Dinghy not included.


Call me to make appointment for viewing. My number is 021-1818107.